Learn how to troubleshoot and resolve connection errors
Connection errors
Connection Errors occur when a terminal cannot connect to the internet. Your terminal will display this message on-screen.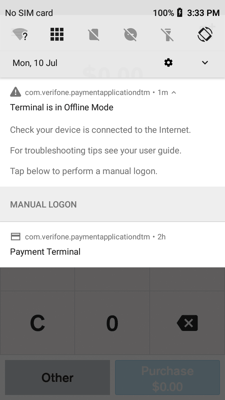 Older models may display 'OFFLINE' in red text on-screen.
Offline Mode activates when two consecutive transactions fail due to communications issues i.e. your terminal cannot connect to the payment network. The third transaction attempt will be Offline, and your terminal may require your customer to authorise the transaction with their signature instead of a PIN. The terminal will store this transaction to upload when communications are restored.
Restart your terminal and if that does not resolve the issue, try the following:
Attempt a logon
Make sure all cables are secure
Try rebooting your modem/router
If your Wi-Fi is not working on any device, contact your internet service provider
If you are still unable to restore a connection, your terminal should operate in Offline Mode.
NOTE: If you have a firewall on your internet connection, contact your IT support or internet service provider for assistance. An incorrectly configured firewall may prevent a terminal from connecting to a network.