Offline Mode allows you to process transactions when your terminal can't connect to the internet. However, some limits and restrictions apply.
IMPORTANT: Offline Mode is not designed to function as a secondary communications method. It is intended as an emergency continuation of processing capability.
IMPORTANT: We are not responsible for any loss of stored transactions should the terminal malfunction before uploading the transactions to the Verifone Network.
Offline Mode allows you to continue taking payments if your terminal can't connect to your payment network. When your network connection is restored your terminal uploads the transactions for processing.
Navigation
Triggering and exiting Offline Mode
Android
Your terminal will automatically enter Offline Mode if two consecutive financial transactions decline due to:
a communications error (i.e. your internet is down)
availability of the payment network
failure to clear a pending transaction
A Warning icon

will display in the Notification bar. Your terminal will confirm it is in Offline Mode and prompt you to perform a manual logon to exit Offline Mode. A successful Logon will trigger the terminal to exit EOV Offline Mode.
Your terminal will attempt an Auto Logon and will also attempt to upload transactions automatically every 10 minutes. If either is successful the terminal will exit EOV Offline Mode.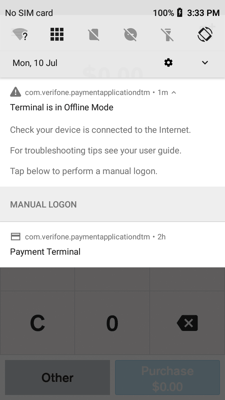 VX 690, VX 680, VX 820 Duet & VX 520 Colour
Your terminal will switch to Offline Mode if it receives two "Comms Error" messages in a row. The terminal will now display OFFLINE in red at the top of the main screen.
Once communications are restored to your terminal select Logon from the main menu – if this gives you an 'Approved' response then your terminal is online again. Any stored Offline transactions will now automatically upload.
V240m & V210
Your terminal will switch to Offline Mode if it receives two "Comms Error" messages in a row, but only if the terminal has done a successful Logon in the past 24 hours. If this happens your EFTPOS terminal will prompt you to process the transaction offline - select Yes to continue.
Once your terminal's communications are restored select the LOGON option from the main menu. If this says APPROVED then you will be back online and any stored transactions will upload.
Limits and restrictions in Offline Mode
You can only accept card-present Purchase transactions with debit, Visa, and Mastercard cards issued in New Zealand. You cannot process MOTO, Cash Out, Refund, Pre-Auth or contactless transactions while Offline.
An Offline transaction is only authorised if ALL of the following conditions are met:
The cardholder must be present at the time of the transaction
The receipt is signed by the customer and the signature is comparable to the signature on the card, or if prompted, the PIN is entered
If a signature is required, your customer must sign the first merchant receipt
You must retain and store this signed receipt in a secure location for 12 months
You must select to accept the signature on the EFTPOS terminal when prompted
There are some limits for Offline Transactions:
The maximum dollar amount is $300 per transaction, per account, per card
Maximum 200 stored transactions per Offline session on the Verifone Network
Maximum 99 stored transactions per Offline session on the Worldline Network
A total of $5000 worth of transactions may be stored per session on the Verifone Network
Some chip cards override the limits set in the terminal e.g. no offline transactions, or only one offline transaction may be possible
Transactions permitted are:

Purchase
Purchase with tip
Purchase with surcharge

Not all card types are supported in Offline Mode, e.g. Union Pay, Amex cards and third-party cards like gift cards